Make everything easy on the eyes
Make everything you do look unbelievably brilliant with a 13.3″/15.6" Super AMOLED touch screen that's the most advanced ever in a Galaxy Book. Lose yourself in your favorite content with vibrant cinematic-like viewing at 120% color volume¹,² and a contrast ratio that's millions-to-one. Work inside or in direct sunlight, either way, the screen adapts to your space to constantly give you perfect color and lessen eye strain by reducing harmful blue light.
¹AMOLED screens can produce 100% Color Volume in the DCI-P3 color space, the format for most cinema screens and HDR movies for television.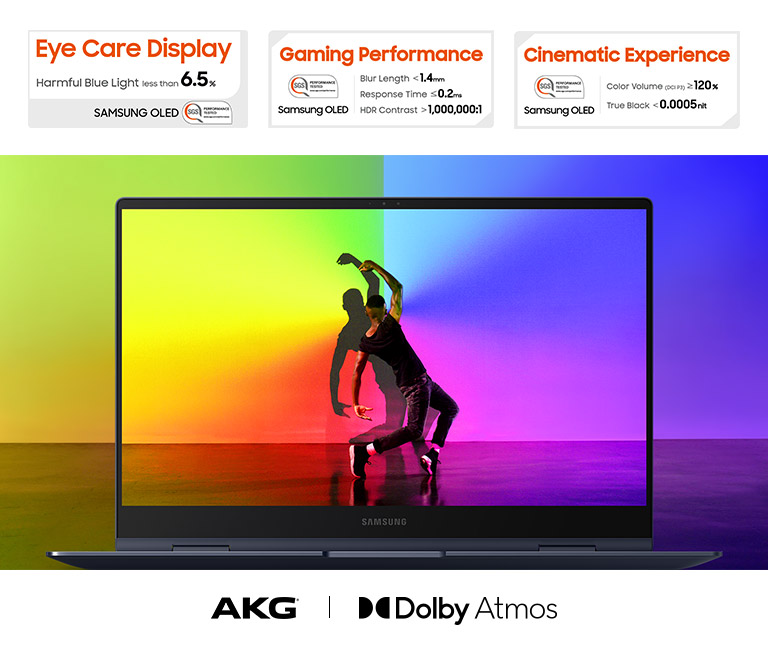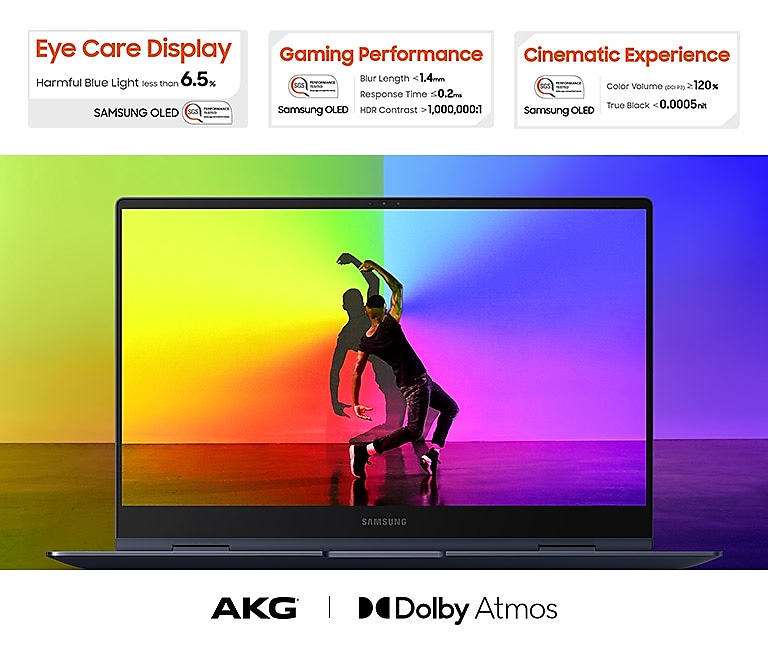 Turn heads with an impressive ability to fold up to 360 degrees. Galaxy Book Pro 360 is a stylish, 2-in-1 device that's as powerful as a PC and thin as a smartphone. Designed to switch to a PC or a tablet, plus sleek, ultrathin with a full aluminum chassis and available in Mystic Navy and Mystic Bronze, it's made to make you look good.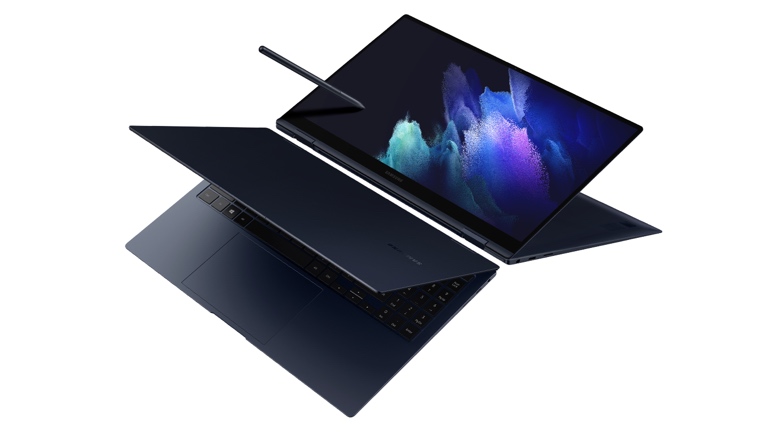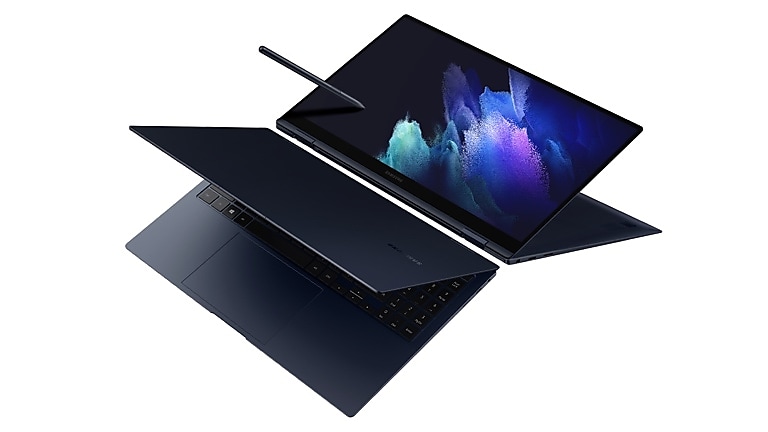 Get the power to create it. And the storage to keep it.
Smoothly do whatever you need to do — from streaming your favorite show with minimal lag time, to playing graphics-heavy games with split-second responsiveness, to multitasking and more — all thanks to the latest 11th Gen Core processor that's Intel® Evo-certified, so you know it works on a premium platform and 16GB of RAM. With a near-instantaneous start-up and 1TB of storage, it has everything you need to push yourself forward.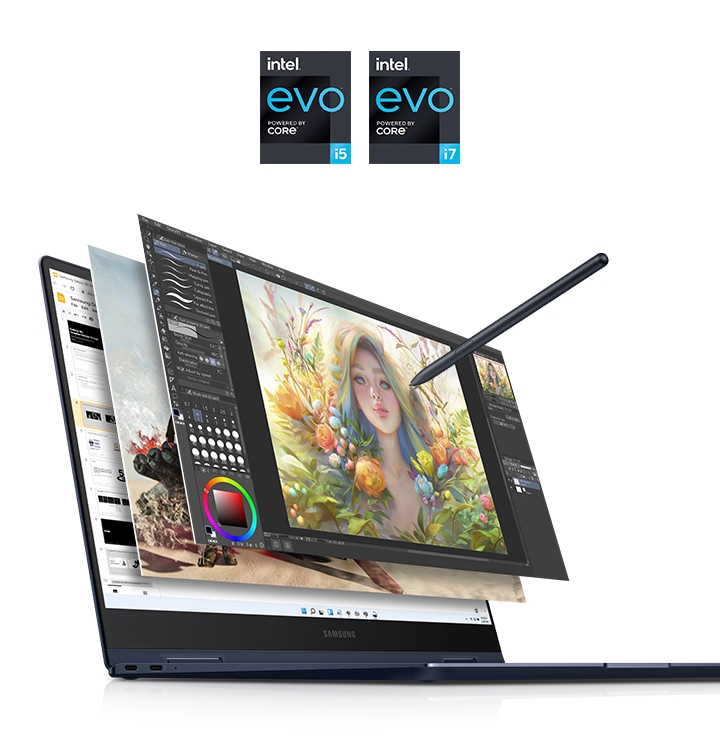 Do more with an upgraded S Pen
Turn your screen into a canvas with a highly improved S Pen³ that's made bigger, so it feels more comfortable in your hand. Use an all-new Samsung Notes to draw on PDFs, transform handwriting into documents or use voice recording to create images to match your conversations. It's designed to work across your devices and give you the best writing and drawing experience.
³When compared to the previous Galaxy Book.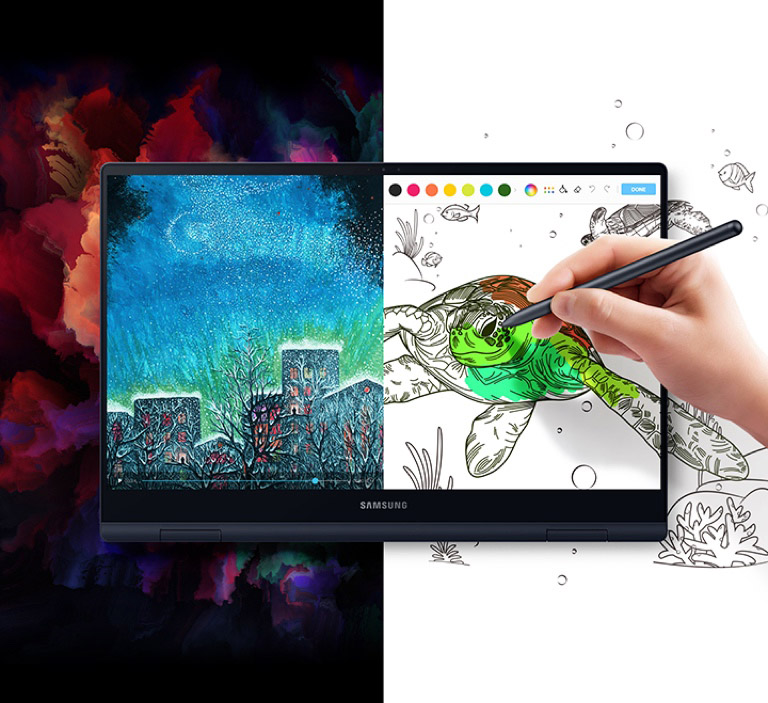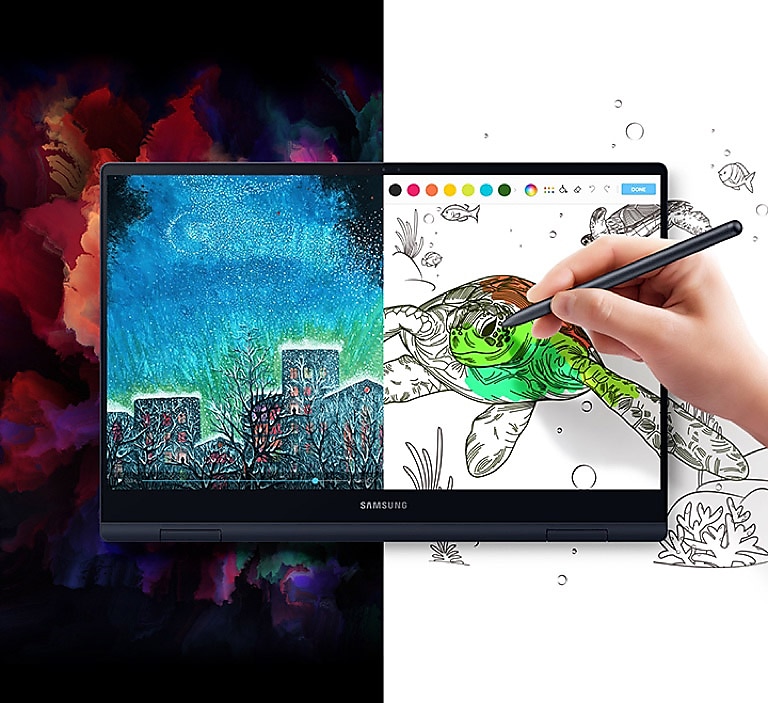 Go up to 20 hours on a single charge
Be productive and play throughout the entire day with up to 20 hours on a fully charged battery.⁴,⁵ Schedule even heavier? Our smallest and lightest charger won't weigh you down when it finally comes time to recharge. Universal across the Galaxy,⁶ it's super fast⁷ and super easy, so you're back up quick to finish that final meeting or the third act of the movie.
⁴Battery life may vary depending on environment, usage patterns and other factors. Average expected performance based on typical use. Actual battery life depends on several factors and other application usage patterns. Results may vary. 20-hour battery life once fully charged.
⁵When using the included charger and cable.
⁶In-box charger is compatible with USB Type-C.
⁷Based on fast charging results from Internal Samsung lab tests, conducted with 65Wcharger while it has 2% of power remaining, with all the services, features and screen turned off. Actual charging speed may also vary depending on the actual usage, charging conditions and other factors.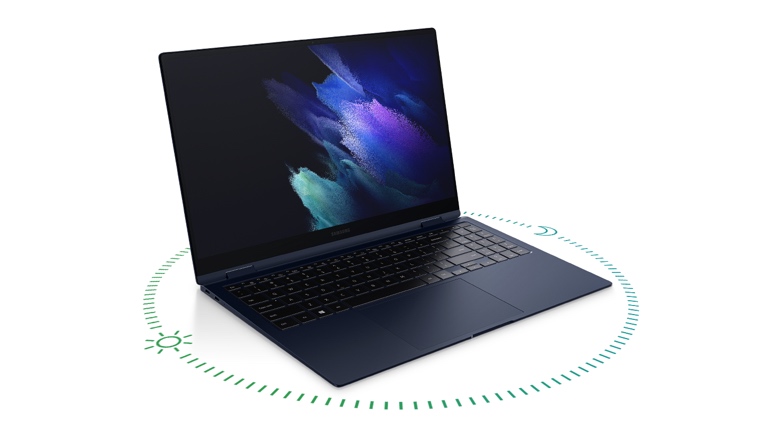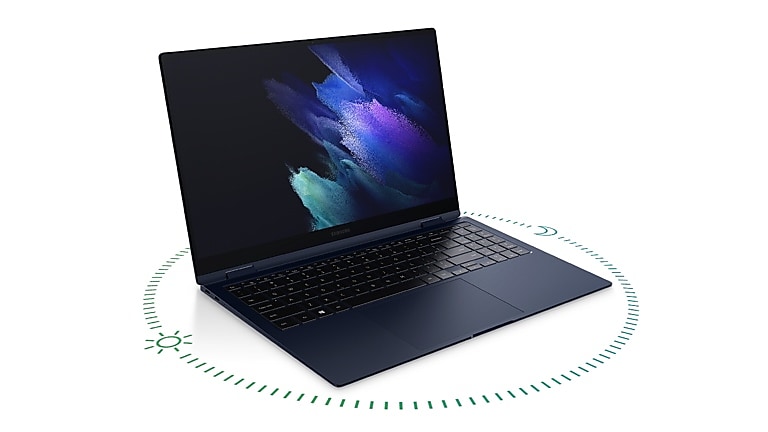 Work and play with the rest of your Galaxy
Pair your devices and easily jump from your work life to your personal life on your Galaxy Book Pro 360. Set it up as a second screen for twice the productivity or use it as a sketch pad for beautiful notetaking with our natural-feeling S Pen.³ Stop emailing yourself with Quick Share instant file sharing or play your favorite mobile gaming app on a much larger display. Connect your Galaxy Buds Pro and go from expert video conferencing to catching up with your best friend in perfect clarity. Plus, use Samsung SmartThings capabilities to control your other devices with a tap and know where your Galaxy Book Pro 360 is at all times.
*Sequence shortened. Image simulated for illustrated purpose.
**Quick Share requires Galaxy smartphones and Galaxy Tablets with Android OS version 10.0 (Q) and One UI 2.1 or above. Requires Wi-Fi and Bluetooth connection.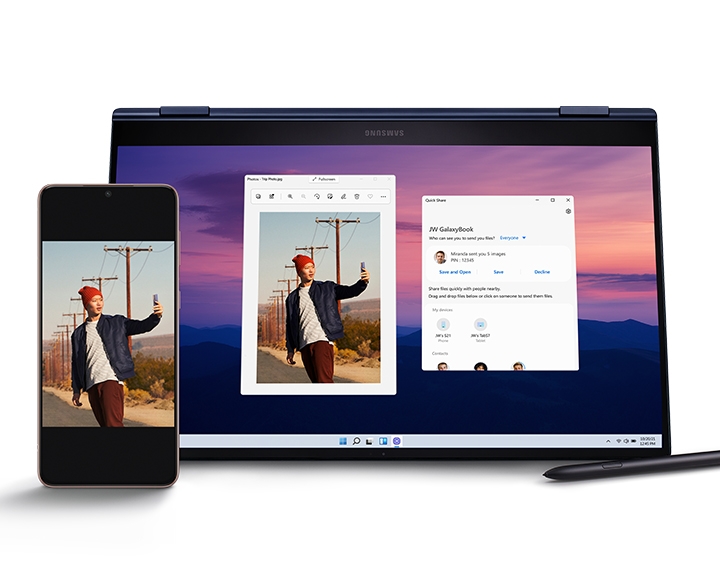 Look like a pro, even in your living room
Make WFH work for you with tools that help you look, sound and do your best. Attend a last-minute morning meeting and still make a good impression with our camera beauty filter. Hide the rest of the family's ruckus with background noise removal. Still distracted? Easily turn your camera and mic off during any interference, then make sure you never miss a second by using the time-saving screen recorder.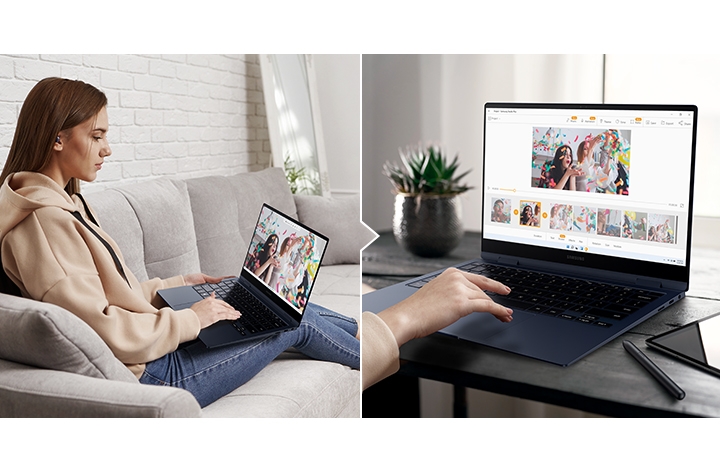 Do way more with Wi-Fi that's way better
Backed by next-gen Wi-Fi 6E, Galaxy Book Pro 360 gives you speeds up to three times faster than normal Wi-Fi. Download music, movies and more in seconds with better bandwidth, all on a secure network. Add in 5G,⁸ and stay connected — even when you're away from Wi-Fi — with faster browsing and less congestion.
⁸5G Connected model not yet available in the U.S.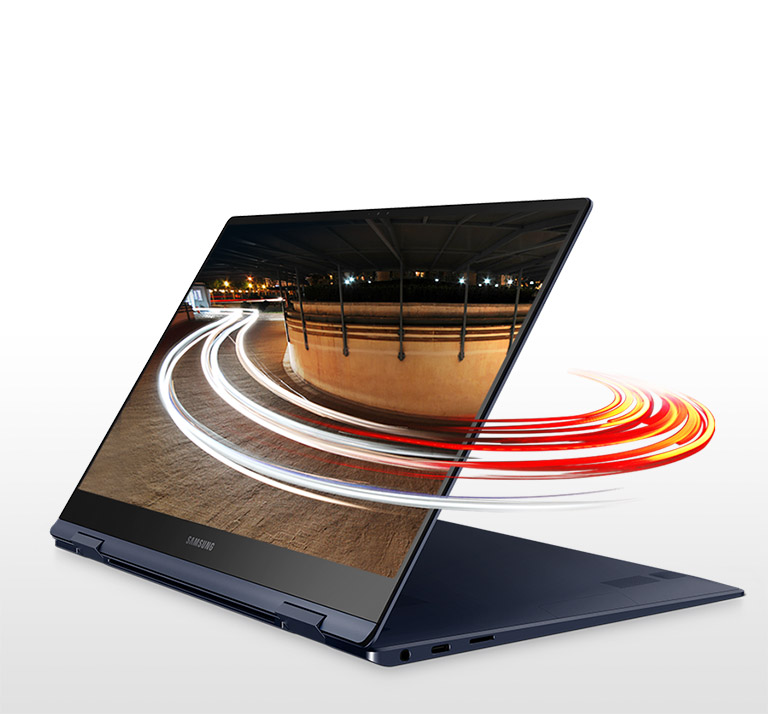 Use a system that's familiar and fast
Do more on a familiar operating system, now updated to make your life even easier. Equipped with Windows 11 Home OS, you'll get all the programs and tools you love — from editing to sketching and everything in between — as well as some that are completely new. Pick up right where you left off by returning to past activities in your timeline. Work and play at the same time now by simply snapping apps side by side. Or keep distractions to a minimum with new Focus assist. With Windows and your Galaxy Book Pro 360, you really can do great things.